Welcome back for the second part of Raven Republic's recounting of its past Armored Core tournaments.
PACT 4 – Let's Go Ravens
Months after the previous tournament, Raven Republic members were itching for an excuse to gather and compete again. So, on the 7th of June 2008, the Raven Republic held its fourth PACT tournament, again graciously hosted by Sforza.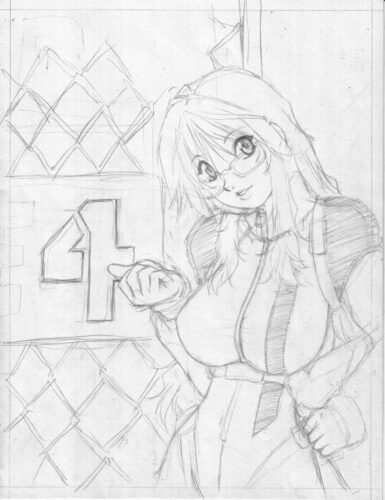 The rules this time were still based on PACT 3 but modified to be less restrictive.
Two (2) ACs with no repeating parts (except for optional parts) shall be allowed per person. The AC can use the same leg type, but not the same exact part (i.e. you can use tank legs for both of your units, but not the exact same tank leg part model) per AC, including internals and weapons.
A participant shall use one (1) AC against the opponent's other AC. The second round will force players to swap their ACs with the one in reserve. The 3rd round shall allow both participants to choose which ever AC they wish to use.
The scoring system using the AP score format will be retained. This format computes the total amount of AP left for the three (3) bouts for each pair of participants. The participant with the higher total sum AP after the three (3) rounds shall be declared the winner.
By now, the process was familiar for everyone, from organizing in the forums, to transportation and logistics, and borrowing TVs and PlayStation 2s.
Here's a summary of events, written more than a decade ago.
The brackets may have been lost to time, but Ethermaster and Moonlight_Raven were the ones to make it to the finals. Moonlight_Raven was Ethermaster's Armored Core mentor prior to finding the Raven Republic. But now, there was a championship at stake. And in the end, Ethermaster came out with the win to become the new PACT champion.
PACT 4 Results (Wins/Losses/Matches/Win %):
Ethermaster 5/0/5 100%
Moonlight_Raven 4/2/6 67%
atdsutm 3/2/5 60%
Sforza 3/2/5 60%
Archangel (Mjting) 2/2/4 50%
Grim 2/1/3 67%
AEA1 1/2/3 33%
Mikeberserkr 1/2/3 33%
Fox 1/2/3 33%
Azuriel 0/2/2 0%
Grimweld 0/2/2 0%
Serene 0/2/2 0%
Championship match (Volume Warning):
And finally, as was tradition, we all went out for dinner afterwards: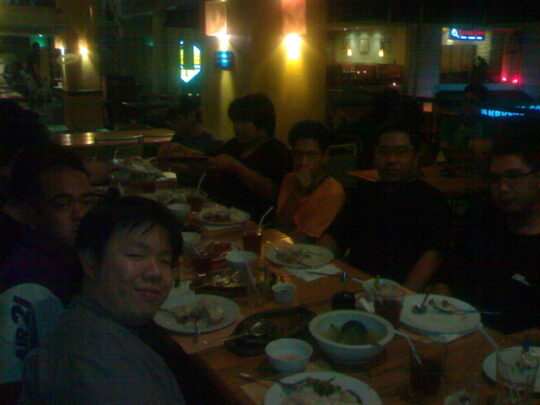 PACT 5 – Grab a Friend, TOTAL (Two-On-Two-Action-League) Fun
In another experimental attempt to shake things up for an aged Armored Core title, it was decided that PACT 5 would be a two-on-two tournament.
On tournament day, August 1, 2009, the random selection of partners began at 1:00 PM, with the restriction that previous PACT placers would be seeded into the brackets, and they could not be paired with each other.
After the team-ups were determined, participants were given an hour to strategize and coordinate their ACs with their partners. During this time, each pair was allocated a maximum of 15 minutes on a PS2 to adjust their ACs. The pair then declared their ACs for use, and a marshal ensured PACT compliance using standard rules.
The other rules were the usual ones – banned maps as before, a random map selection for each round, a best-of-3 format for regular matches, and best-of-5 for the finals, with a 5-minute time limit.
The teams:
Leperman and Beaskiller
Nix and Goat
Maitreya and Ardjin
TwinSkies and Azuriel
Atdsutm and Arch_Angel
Clonezero and Serene
Grimweld and AEA1
Once all ACs were declared, the tournament began at 2:30 PM, putting part knowledge and team coordination to the test.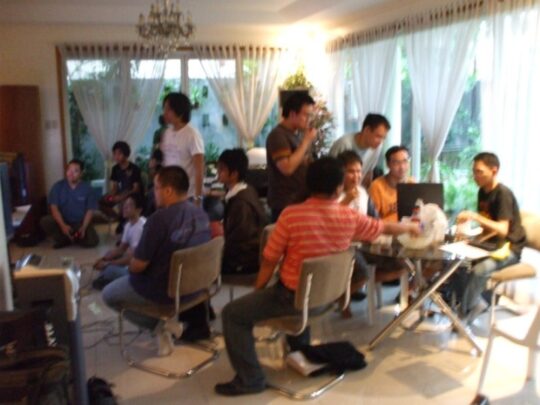 This report came from Maitreya:
PACT 5 brought a refreshing change to the congested Last Raven scene, introducing an entirely different metagame with the 2-on-2 format. Kudos to NiX and Goat for their victory and their excellent attack combo. They proved that firepower and defense weren't the only paths to success in a 2-on-2 match.

A salute to the Ting brothers, who performed splendidly and even managed to take down a formidable opponent. Jokes aside, their teamwork was commendable.

Ardjin deserved credit for being an outstanding partner, showcasing impressive skills and the famed Jetstream attack.

Considering the stats, it seems the Tings deserved second place, as Jin and I lucked out with byes. A lighthearted observation, of course.
The results were as follows:
NiX + Goat (11-1)
Maitreya + Ardjin (5-6)
Andrew + Mark (9-6)
AEA1 + Grimweld (3-4)
Leperman + Beastkiller (1-4)
Twin-Skies + Azuriel (0-4)
Clone + Nerese (0-4)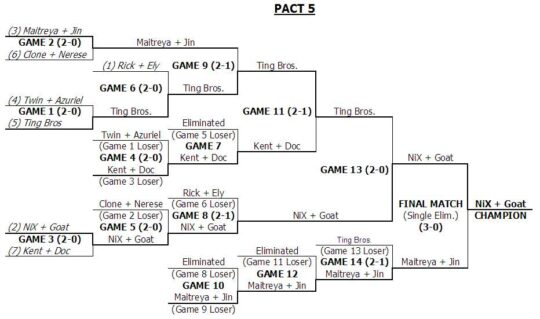 Fortunately, PACT 5 was the first tournament to have actual match footage.
PACT 5 Match Video Playlist:
The two-on-two format highlighted the importance of synergy and teamwork rather than just individual skill. This showed in NiX and Goat's focus-firing tactics that won them the championship.
PACT 5 worked to keep the competition alive a bit longer while being more laid back than previous tournaments. But after so many years of playing Last Raven, interest in it had naturally started waning.
(Participant ACs were posted here.)
PACT VI – The Last of Last Raven
Talk about another tournament was quickly floated right after PACT 5 without gaining much traction. But two and a half years later, with the impending release of the English version of Armored Core V, there was finally enough push for a last goodbye to competitive Last Raven.
Going back to basics, a classic 1-on-1 tournament was decided. The rules were mostly the same as PACT 1, but in a double-elimination format.
Unlike previous tournaments, this one was actually held in a public venue. And on February 11, 2012, the tournament commenced.
PACT VI Match Video Playlist:
Fifteen players registered for the tournament. Knowing that this might be the last one, some players were highly motivated to compete. Mjting, a relatively newer member at the time, was particularly fired up. He had practiced heavily during the time leading up to the tournament, and he took every opportunity to consult and play with previous PACT podium placers.
His efforts paid off. In the third round, he sent tournament-favorite Lord Leperman to the losers' bracket. But he was sent to the losers bracket himself by NiX in the round after, where he had to claw his way through to face an equally determined Fox.
Coming out of the winners' bracket with a twice-to-beat advantage was NiX. And with a hard-fought place out of the losers' bracket was Mjting. In what seemed to be a recurring theme since PACT 3, teacher against protege faced off in the finals, yet again.
Learning and adapting from their earlier fourth-round encounter, Mjting and his RL midweight took the first two rounds in convincing fashion. But NiX, in his GL quad, made his own adjustments to take back momentum. NiX won the next three close rounds to finally take his first 1-on-1 tournament title.
Final match: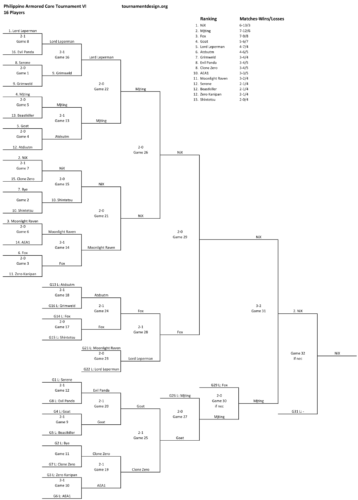 With the conclusion of PACT VI, the members of Raven Republic didn't say it out loud, but they understood that it was a farewell to Last Raven. And what a farewell it was.
In the days to follow, Raven Republic eagerly awaited Armored Core V, where there would be more adventures (and notoriety) to come. Stay tuned for our recounting of that!