Editor's note: This story has been updated with additional anecdotes from a few OGs!
If the world of Armored Core collided with the world of Pro Wrestling, it would give birth to the legendary Master of California series of tournaments. With opera levels of drama, intense rivalries, and a cast of distinct personalities, this competition was a true spectacle of skill and showmanship. Drawing up to 50 participants, Master of California stood as the most prestigious tournament outside of Japan, captivating AC fans across the globe.
There have been a total of five MoC events, starting from Armored Core 2 and ending with Nexus. California has a flourishing fighting game community, so it was only natural that Armored Core's competitive scene was alive here as well.
The Genesis of Master of California
Before organized grassroots tournaments, smaller AC gatherings organized by "Ravens' Nest" popped up in various locations, including Japan. The birth of Master of California was sparked by the ingenious minds of three individuals from Southern California's Ravens Nest in Irvine: The Watcher, Cable, and JinX. Little is known about the inaugural tournament, but its existence left an indelible mark on the competitive Armored Core scene.
August 25, 2001, 11:30AM, California State University, Fresno, University Student Union, Room 309 (funny how Armored Core 6 is going to be released 22 years later).
The first MoC tournament featured fierce battles and passionate duels. The rules for this initial tournament were relatively straightforward:
Platform: Armored Core 2
Linked play
Double elimination format
Legal cores only; no human PLUS and/or overweight designs allowed
5 minute time limit per match
Coin toss determined the first arena, with the loser picking the next map.
The same rules applied for the Contraband tournament, except allowing Human Plus and Overweight designs.
Oliver Maiquez emerged as the champion, with Dante Mapanao (Cable) securing second place and Alain Maiquez (The Watcher) claiming third. The separate Contraband tournament saw Angelo, Kurt, and Dante winning first, second, and third respectively. The event's details have become somewhat obscured by time, but its impact on the Armored Core community was undeniable; it lit the competitive spirit of Ravens in the US.
According to sources, the winners were a sweep for the Southern California Ravens, largely due to the dominance of siblings Oliver and Alain who played against each other on a regular basis. Dante, their family friend, surely managed to catch in on those sessions as well.
NorCal vs. SoCal Rivalry
The introduction of the Ravens Nest of Northern California (RNNC) into the Master of California series elevated the tournament's intensity. The clash of NorCal and SoCal Ravens fueled a fierce rivalry, accompanied by colorful trash talking and heated duels. While NorCal Ravens boasted creative and competent pilots, the SoCal Ravens had their own unique gift for combat, setting the stage for unforgettable confrontations.
Around May 2002, after MoC1, NorCal and Socal Ravens again got together in an event called the Southern California Royal Rumble. The rivalry between the two groups led to absolute gems such as this reply to a post after the event:
Listen to this fella… *RETRACTED*, I hate to break it to ya, but Nor. Cal. didn't look as hot as you're making it sound. I mean none of you are BAD players, but c'mon, The Watcher, CABLE, and Angelo were whippin you guys around like rag-dolls (as well as the rest of us of course). Fact is, Judging by what I saw, Nor. Cal. will be lucky to get in the top 5 AT ALL. I mean, Kannon is great, and Juju is good. Kobel ain't bad, and you're nothing to sneeze at, but c'mon. Donn eats guys like you for lunch, and Kurt slammed most of you without breakin' a sweat. Besides, you're run and hide tactic that you were so proud of did seem to backfire rather quickly, and though I did lose to you off and on, we all know I owned a better percent of my matches against Nor. Cal., than not.
Really, though, it WAS cool that you guys cruised down. I had really been concerned for So. Cal. representation, but now, I don't think that there is much to worry about. MoC may not be an accurate title for the tournament, more likely it'll be, 'The Slaughterhouse.'

laetz yo.
You can find the entire archived trash talking thread here. This leads us nicely into…
Master of California 2: The Calling
A year after the inaugural tournament, Master of California 2 arrived on August 24, 2002. Players assembled once more at Fresno State, eager to showcase their skills. The rules for this edition of the tournament were similar to the first, with some slight modifications:
Platform: Armored Core 2 Another Age
Double elimination, best of three tree structure
5 minute time limit per match
Enemy data HUD is banned
Retzki Armament Laboratory was banned as a map of choice
Like in MoC1, coin toss to determine the starting arena. The difference being only Ocean Base, Old Avalon Area, and Ancient City are the only choices for the first arena, where the loser of the coin toss gets to eliminate one of the three for the starting map.
The loser of a match gets to pick the next map.
A lottery system was in place to determine who fought who in the brackets, done at random.
An addition to this were what the organizers called Challenge Matches, where anyone could challenge any player to a duel, and if the other party accepted, the organizer would facilitate a match between the two on the day of the tournament, with no effect on their tournament placement. No doubt this was spurred on by the rivalry between players in the community, some of whom may have had a grudge to settle.
Oliver continued his winning streak, securing another first place victory, while Angelo and Joust claimed second and third place, respectively. From a personal account of Penguin Deus, he recalled that Angelo was concerned that The Watcher was playing subpar, and that the former was annoyed with Joust's gimmicks (a quad running the STEALTH backmounts with the S/NIGHT sniper and a blade) leading him to tell Joust straight to his face: "a lock wouldn't make a difference". And it didn't, as the results showed.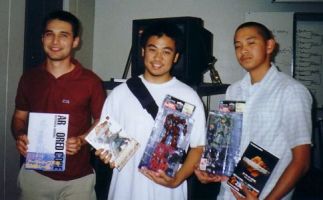 The best part: a gang of Ravens on vacation from the east coast managed to record their participation in MoC2: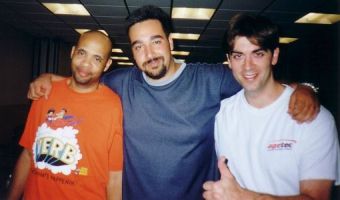 It's as if you were there.
Some choice tournament vids of Joust playing in MoC2:
Joust has uploaded the entire library of recorded matches from MoC2, but unfortunately, most of them are set to private or are unavailable.
Armored Core Online's First Tournament
While not part of the Master of California series, this event took place on May 25, 2003, only a couple of months before MoC3 and was a litmus test of what was to come. This was the first tournament organized by the popular website Armored Core Online, and probably the first large-scale Armored Core 3 tournament in California, attracting over 20 participants.
The rules for this tournament were as follows:
Platform: Armored Core 3
Matches were best 3 out of 5
Players could only use one AC design throughout the tournament
A lottery system was in place to determine matchups
A separate after-party tournament allowed the use of OP-INTENSIFY/CROW designs
Once again, Oliver demonstrated his prowess, securing first place. The whole event was a prelude to the upcoming Master of California 3, generating excitement and anticipation.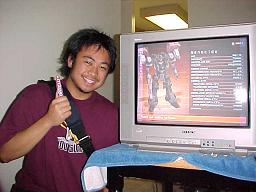 The most striking fact was that he wasn't even using a competitive design; he didn't even have a left arm weapon on his winning AC, Genocide. His brother Alain also participated, but no records show how well he fared in this event. Second place went to Joust.
Master of California 3
Finally, we have a much more well-documented event. Master of California 3 continued the tradition of annual Armored Core tournaments. Taking place a month after ACO's tournament, MoC3 took place on June 25, 2003 in the same building as the previous two MoCs.
The rules for this tournament mirrored those of Armored Core Online's tournament:
Platform: Armored Core 3
OP-INTENSIFY, CROW stealth extensions, and the RF/220 rifle were banned
HUESO legs were soft-banned
The East Coast trio documented the event once more:
We are very fortunate to have found an extensive collection of the tournament footage as well. We've organized all of it right here:
Master of California 3 Playlist
Before we get to the results of this tournament, which was by far the biggest at more than 30 participants, we'd like you to watch the final match of the tournament. Can you guess who will win?
That's right, it was the brothers, Oliver and Alain, again fighting for the top spot. To no one's suprise (anymore), Oliver got the first place victory. 3rd place went to Kobel, the founder of Raven's Haven. As a member of RNNC, he netted a win for the Northern California Ravens.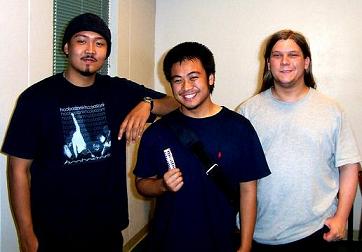 The MoC3 tournament brackets can be found here.
The complete rankings of MoC3 can be found here.
Master of California 4
There are few surviving records of Master of California 4, but thankfully we have a firsthand account coming from its second place winner, Penguin Deus, from an interview in The Raven's Voice podcast:
MoC4 brought over 40 participants, and while records of the event are scarce, Penguin Deus' interview outlines what you would expect. There were a few interesting moments during the tourney which we'll leave for you to discover in the interview, particularly the Red Shirt Guy incident. As a bonus, you'll hear stories from the California group in the same podcast. We urge you to give it a listen.
In a surprising twist, Oliver did not win the championship! His brother Alain won first place.
We've also organized available tournament footage here:
Master of California 4 Playlist
Master of California 5
Next to nothing was archived about the last MoC tournament, but a few choice anecdotes from TMRaven and Penguin Deus can give some insights on who won and what they used:
TMRaven: achilles won moc5 wtih 89e/fa frame using 81G/Golem as guns
TMRaven: rebelsoul took 2nd in moc5 using an lf71 ob quad using rs/gl, and GLL (Backmounts)
Penguin Deus (on the top 4 rankings): Achilles 1, Rebelsoulpk 2, Reuben 3, Booyaka 4
Beyond that, we're spent on any MoC5 information.
Epilogue
And so we reach the end of Master of California's known history. As we look to complete our coverage on Armored Core's past, we will be exploring the AC scene in the Philippines through the tale of our very own Raven Republic.
Stay tuned for the next chapter in the saga of competitive mech combat!
SOURCES:
Master of California 1 website and results
Southern California Royal Rumble
Second Source for Southern California Royal Rumble
Master of California 2 website
Master of California 2 footage
Master of California 3 brackets
Master of California 3 results
Master of California 3 footage