It's the year 2004. Armored Core: Nexus just came out, and the stage is set for a series of tournaments known as Battle Arena, one of the prime examples of FromSoftware's commitment to supporting its players through Armored Core competitions. FromSoft is no stranger to organizing Armored Core tournaments at this point, having organized plenty during the days of Armored Core and on Armored Core 3.
To facilitate this grand event, FromSoftware developed a dedicated website named Raven's Central Office (RCO), where participants could register for the tournament.
Upon registration, contestants received an official "Armored Core Ignition-ID" card with a unique serial number. This card stood as evidence of their involvement in the Battle Arena tournament, a coveted emblem of participation, and promised potential benefits related to undisclosed FromSoft projects in the future.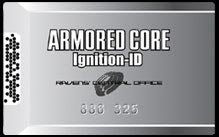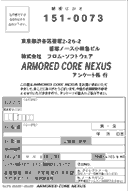 A Nation Ablaze in Competition
Battle Arena was set to span eight prefectures across Japan: Sapporo, Osaka, Hiroshima, Fukuoka, Nagoya, Nigata, Sendai, and Tokyo. Tokyo was further divided into subdivisions, namely Tokyo proper, Saitama, East Tokyo, and Yokohama, due to the gargantuan number of participants in each of those districts.
Following registration, each participant was assigned a rank, determining their eligibility for engaging in the Battle Arena tournaments. These tournaments unfolded in three distinct phases across all the aforementioned cities with the following schedule:
Battle Arena Vol.1: May 15 to May 30, 2004
Battle Arena Vol.2: July 31 to August 8, 2004
Battle Arena Vol.3: September 11 to September 20, 2004
Battle Arena Championship Tournament: October 24, 2004
Operating on a national scale, the tournament implemented a point accumulation system. Competing and winning in each Battle Arena event earned participants a specific number of points. The top 32, or those amassing 1600 points or more by the conclusion of Battle Arena Vol.3, became qualified to partake in the Battle Arena Championship Tournament.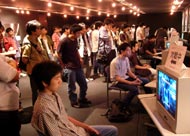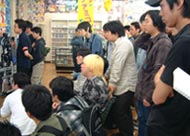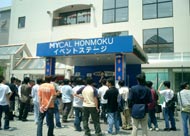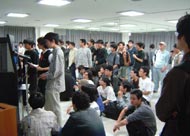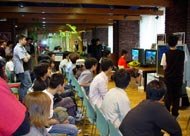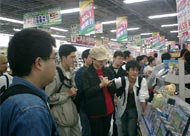 For every city, numerous tournament sets, or blocks, were instituted to accommodate the volume of participants in the area. For instance, Sapporo featured two tournament blocks in one city location, with 16 and 17 participants respectively. More populous cities like Osaka had as many as four blocks in a single location, each containing 16 participants, as well as two more blocks with 16 participants each in a different location within the same city, all to accommodate the number of participants. Notably, one of Tokyo's tournaments unfolded on the first floor of FromSoftware's HQ, featuring nine blocks and totaling over 100 participants throughout a two-day period.
The tournaments drew prominent participants from Japan's competitive Armored Core scene, including the victors of Raven's Arena, Mr. Light and Imori.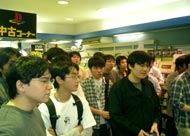 Winners for each block in every Battle Arena event, in each city, were commemorated on a webpage that showcased their AC and included commentary from the pilot/designer, along with their emblem.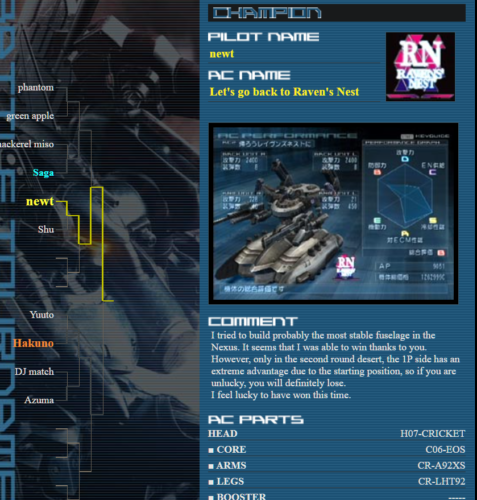 The regulations were straightforward: preliminaries consisted of standard 3-minute matches, utilizing Military District as the first map and Dune for the second round. Semifinals extended the time to 5 minutes, with battles occurring in Limestone Cave. The finals were comprised of a best-of-three match, lasting 5 minutes each, set in Marine Base.
Conventional to the series, Enemy data display was set to off, and unintentionally dropping weapons didn't entitle a rematch.
Regarding tournament designs, no parts were prohibited as Armored Core: Nexus arrived just two months before Battle Arena 2004's commencement. Nevertheless, a detrimental bug that disrupted competitive game equilibrium existed within the Japanese release of Nexus. This bug involved equipping the left arm NICHIRIN flamethrower.
The Nichirin Controversy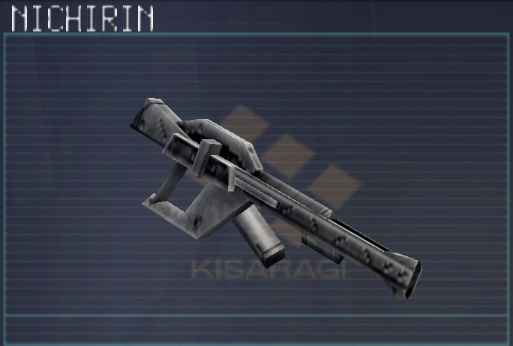 Following the dual trigger/wielding design experiment in Silent Line, FromSoftware aimed at bringing balance by amalgamating the lockbox of the perpetually active left arm weapon with the equipped right arm weapon. This meant that if a left arm weapon had a Wide and Shallow lock, and the right arm weapon had a Narrow and Deep lock, the resulting lockbox would be smaller than the average of the two. Equipping two Wide and Shallow weapons also resulted in a smaller lock box compared to using only one.
However, an oversight during the game's development resulted in the left arm NICHIRIN flamethrower lacking a lock value. Equipping this bugged part furnished any right arm weapon with an independent Wide and Shallow lock, producing the largest conceivable lockbox while retaining the range of the equipped weapon. It is important to note that this glitch is only present in the initial Japanese release of Armored Core Nexus. Subsequent releases, including international releases, have fixed the glitch.
Combined with the MIROKU FCS, this configuration enabled weapons like grenade launchers and sniper rifles to perform as exceptionally precise close-range armaments. Consequently, a prevalence of LHT-92 tank legs, single or dual-wielded GLL grenade launchers, JIREN extensions, WYRM sniper rifle, and NICHIRIN designs emerged in the early phases of the Battle Arena tournament before flamethrowers were banned in subsequent Battle Arena events.
Apart from this, designs frequently featured the SELENA core, MG weapon arms, and single or dual-wielded M2 machine guns, as they were strong for the game's heat/cooling meta.
As battles raged throughout the course of Battle Arena Vol. 1, 2, and 3, clear champions began to emerge, accruing as much as 2400 points. The comprehensive list of arena rankers can be accessed here.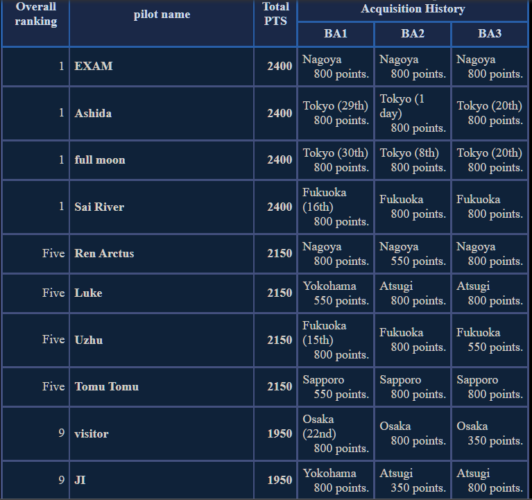 Battle Arena Championship
From the nationwide ranking roster, the top 32 participants, each with 1600 points or more, were invited to the Championship Tournament scheduled for October 24, 2004.
The championship tournament introduced slight variations to the regular tournament rules:
Each participant could use 3 AC designs.
AC designs were prohibited from sharing the same head, core, arms, legs, extensions, left and right back mounts, left and right arm weapons, and hangers across designs – each of those parts could only be utilized once per the 3 AC designs.
All designs could incorporate the same boosters, generators, radiators, FCS, inside, and optional parts.
Assembly, tuning, or design alterations were prohibited during the tournament.
Enemy data display should be turned off.
Unintentional weapon drops didn't justify a rematch.
The GLL back mounted grenade launcher, GACHIRIN flamethrower, and NICHIRIN flamethrower were banned.
Any of the 3 designs could be used once per opponent.
Preliminary rounds constituted a best-of-3 format, with a 3-minute time limit per round. The initial map was consistently Military District, followed by Structure, and, if necessary, Crest Base.
Semifinal rounds adhered to the same best-of-3 principle, but extended each round to 5 minutes. The sole map for this stage was Training Space.
In the finals, the regulations mirrored those of the semifinals, except that maps were drawn at random from the following pool: Born City, Marine Base, Arena, Military District, and Structure.
Every participant in the Battle Arena Championship was bestowed with a pair of commemorative Battle Arena t-shirts, certificates of tournament entry, and a set of "Raven Cards" resembling pilot business cards, engraved with participants' names.



Representatives from Dengeki Magazine and Famitsu covered the event.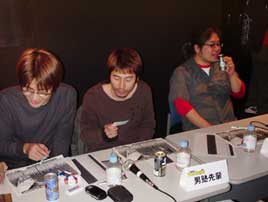 According to RCO's coverage of the finals, the preliminary battles of the championship tournament showcased numerous one-sided contests, highlighting variations in each participant's skill level. Observers noted a restrained level of aggression among participants, who appeared to prioritize careful assessment of their odds of winning. As each pilot's expertise and abilities were on full display, the audience's reactions ranged from impressed inquiries like "How did you manage that movement?" to frequent exclamations of "Wow."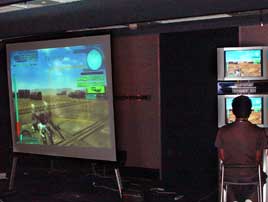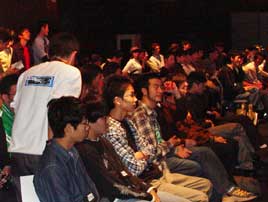 Halfway through the tournament, the atmosphere was laden with tension due to the fierce competition. A break was aptly called for, during which participants and audience members took a pause from the action. In a display of camaraderie and respect, participants utilized this interlude to exchange Raven Cards, swap AC designs, and engage in conversations with fellow Ravens from all corners of Japan.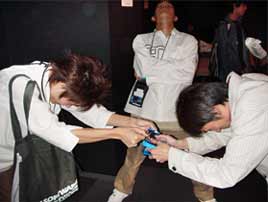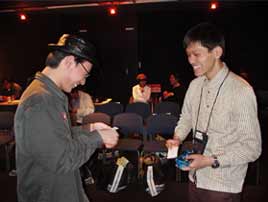 The Final Four
As the break concluded, the tournament entered its climactic stage, with the Final Four of Battle Arena emerging: Mr. Tomu Tomu from Sapporo, Mr. Hepchin (Imori/Newt) from Saitama, Mr. Saikawa from Fukuoka, and finally, Mr. Mitsutsuki (Mangetsu/Full Moon) from Tokyo. These four participants all achieved high rankings, so the atmosphere was intense. Silence filled the air as the competitors focused on mentally preparing themselves for the tournament's ultimate phase—the moment that would determine the most exceptional Raven in Japan.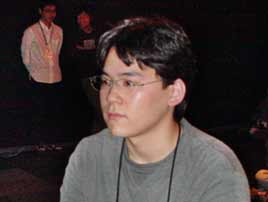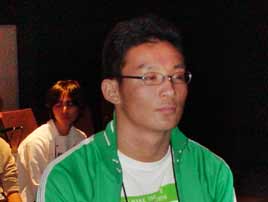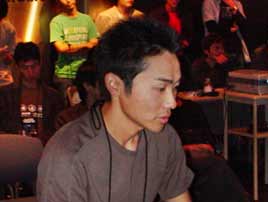 The final brackets pitted Saikawa against Hepchin, and Tomu Tomu against Mitsutsuki. Following the semifinals, Saikawa and Tomu Tomu were eliminated, leaving Hepchin to face off against Mitsutsuki in the finals.
With one victory apiece, their ultimate clash unfolded on the Structure map for what felt like an eternity. RCO recounted that, for the initial two and a half minutes, both participants' AP (Armor Points) remained above 8000. Eventually, Hepchin decided to initiate an attack, descending from the upper part of the map to engage in close combat. However, he was met with precise machine gun fire from Mitsutsuki, yielding an AP advantage for the latter. As the match went on, the AP lead expanded further, and ultimately, victory landed in Mitsutsuki's hands.
Regrettably, despite the presence of the final match's video on FromSoftware's website before, no archived footage is available today. Only two screenshots from the finals are accessible, leaving the unfolding of the match to the imagination.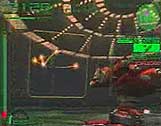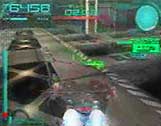 As the dust settled and Mitsutsuki emerged victorious, an award ceremony was held. The champion received a trophy and a windbreaker emblazoned with victory. RCO emphasized Mitsutsuki's unwavering dedication to Armored Core, highlighting that through sheer effort and determination, he had secured the coveted title of Battle Arena champion.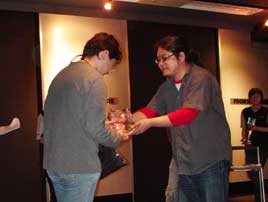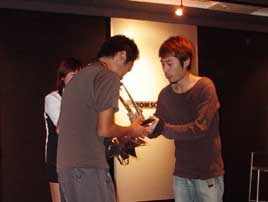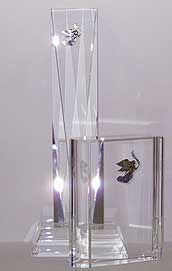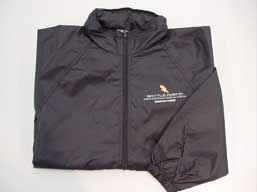 With the conclusion of the tournament, the atmosphere mellowed, fostering social interaction among pilots and continued exchange of Raven Cards. Moreover, a lottery bestowed a selection of participation prizes. Overall, the event ended in good spirits.
Thus concludes the saga of Battle Arena. Besides the NICHIRIN bug, the event was a testament to FromSoftware's adeptness at orchestrating competitive events for Armored Core enthusiasts. One cannot help but speculate whether the forthcoming release of Armored Core 6 will prompt FromSoftware to embark on another Battle Arena-esque tournament, as the demand for competitive Armored Core gameplay inevitably resurfaces.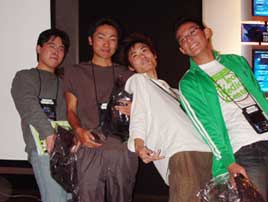 With that, our next article goes back to Armored Core's competitive grassroots tournaments with the history of Raven Republic. Watch out for it – it's gonna be a good one.
SOURCES:
Archived Battle Arena 2004 website
Mr. Light's account on Battle Arena, Yokohama Block
Mr. Lovelace's account of Battle Arena, Tokyo Block