Welcome back to our series tracking down Armored Core's rich PVP history. This time we advance a few years forward from our last entry, to the dawn of the 3rd gen era.
Throughout Armored Core history, there is one event that stands out as a landmark moment—the first official international duel between Japanese and Korean players. Armored Core 3: Raven's Arena, a special program held on December 14, 2002, brought together formidable teams from both countries. What ensued was a clash of skill, camaraderie, and a touch of miscommunication.
The following is a summarized account of the events by Right/Light and Raptor, both from the Japanese team. We do not know the selection process for the pilots, but it's safe to say that they were selected for their skills as Ravens.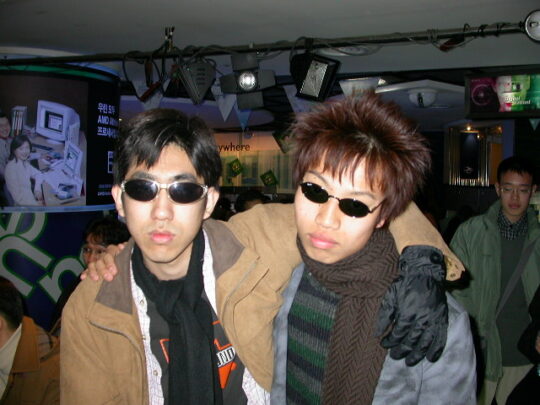 As the Japanese team embarked on their journey from Japan to Seoul on December 13, anticipation ran high. Consisting of four skilled players—Light/Right, Raptor, Atlas, and the legendary Imori—accompanied by representatives from Famitsu gaming magazine and FromSoftware (including Armored Core series producer Kenichiro Tsukuda), the Japanese contingent was ready to make their mark. A fascinating tidbit emerged during their journey: when asked about the development team for Armored Core, Mr. Tsukuda revealed that over 50 people were involved, highlighting the scale and dedication behind the game.
Upon arrival in Seoul, the Japanese team settled into the luxurious Ritz-Carlton hotel, their home base for the upcoming battle. They wasted no time in acquainting themselves with the Korean AC teams, engaging in casual matches at local PlayStation 2 rental places. It became clear to Mr. Right that the Korean players possessed remarkable skill with blading, even capable of giving top Japanese players a run for their money. But what truly surprised the Japanese team was the Korean players' ability to converse fluently in Japanese—an unexpected display of linguistic prowess.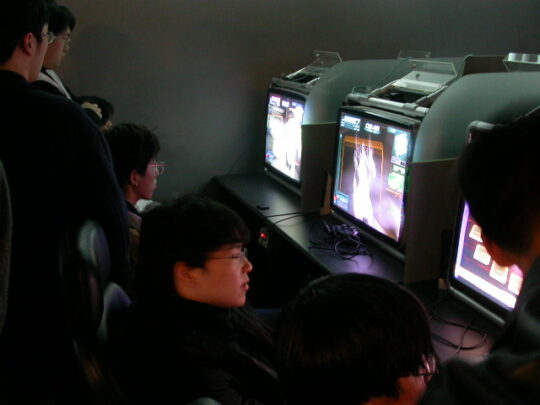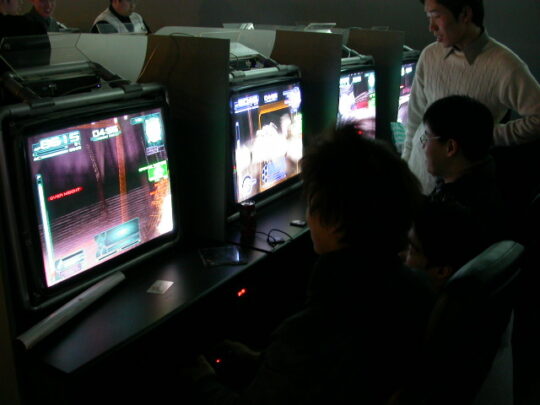 The teams went back home to rest up for the night.
The following day, as the tournament approached, an unexpected problem arose. It was discovered that the standard mode of play in South Korea was Normal mode, while the Japanese players preferred the more challenging Hard mode. To the uninitiated, Hard mode gives a smaller lock box for players, with the Japanese rationale being that the lockbox in Normal mode was too big for competitive play. The organizers failed to inform the Korean team of this and a brief back-and-forth ensued until Mr. Tsukuda himself intervened, ultimately settling on Hard mode as the choice for the matches. This decision put the Korean team at a disadvantage as many of their players had never experienced Hard mode gameplay before. It was an unfortunate case of miscommunication that resulted in a handicap for the Korean players.
Both Right and Raptor acknowledged the event's lack of fairness. Nonetheless, the die was cast, and the tournament had to proceed. Due to time constraints, there was a forced last-minute change to a team battle format between the Japanese and Korean Ravens.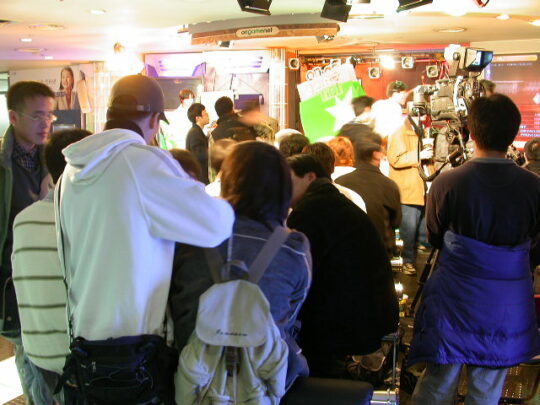 The Raven's Arena tournament had specific rules and parameters. The Korean version of Armored Core 3 was employed. Each battle had a time limit of five minutes, with opponents vying for points in a best-of-five format. Certain parts were banned, including (naturally) the OP-INTENSIFY and CROW extensions. Each player was allowed three AC designs they can swap out at any time. Design details of opponents' ACs were concealed, and changing parts during the tournament was strictly prohibited. To level the playing field, enemy data on the HUD was banned, ensuring players had to rely solely on their skills and awareness. Wearing headphones while playing was a mandatory requirement. Furthermore, specific maps like Jungle, Blast Furnace, and Parking Lot were deemed off-limits.
The significance of the event was further highlighted by the presence of professional commentators, including JIN, the founder of Korea's largest Armored Core fansite, "Armored Korea". Drawing inspiration from the e-sports scene and the prevalence of Starcraft tournaments in South Korea, the organizers sought to replicate that success with Armored Core.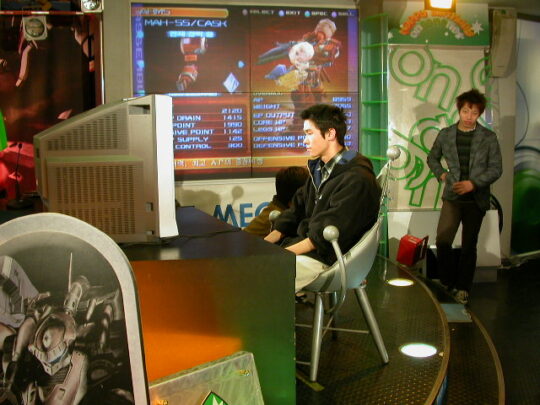 Prior to the main event, participants meticulously crafted their machines in the garage. Although the rules strictly forbade players from viewing their opponents' designs, the assembly screen was displayed on a giant projector in the background of the stage. With a keen eye, Raptor managed to catch a glimpse of some design elements of their enemies. It's worth noting that due to the sheer size of the screen, the Korean players likely saw what the Japanese players were creating as well.
With their preparations complete, the teams engaged in a few practice matches. The atmosphere grew tense, and the anticipation among the players reached its zenith.
So here was the tale of the tape: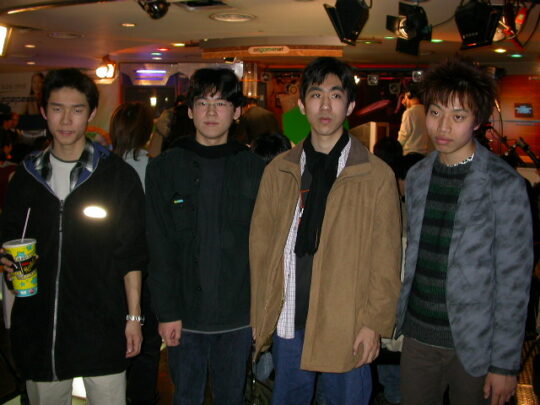 Japan Team:
Satake Yoshikawa (Atlas)
SKYEYE, NER, REX, HUESO, WS-1, ROZ, FLEET, DD/20, side shields, RF/220, HZL50
Kobayashi Masakasu (Light)
MM/003, STO, MHL, RE/3003, WS-3, ROZ, SA44, DD/20, M24/2, dual missiles, chaingun, GS-56, LS-1551
Nishizawa Keitan (Raptor)
HUESO, OX/002, RF/220, ???, OC/15, R/24, DM24/1
Hayashi Yua (Imori)
??? (possibly SKYEYE), NER, EAS, PETAL, none, ???, ???, none, none, none, none, KARASAWA, LS-1551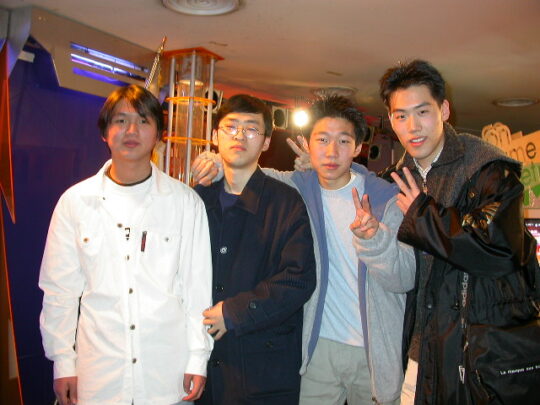 Korean Team:
Zo Kang Hee
Round 1 and 2: TIE, NER, MARTE, HUESO, ANA, ROZ, SA44, MARE, DD/10, M24/2, S40-1, RF/220, HZL50
Round 3 (allegedly named "Muscle Bastard"): 008, STO, CASK, ORDER, FLEET, WS-3, ROZ, SA44, DD/20, RF/220, HZL50
Kang In Hwang (Saga)
Round 1 and 4: 008, NER, REX, HUESO, FLEET, WS-1, VE905, CR10, ECM rockets, A102, HG-80, MOONLIGHT
Round 2 and 3: YIV, NER, REX, HUESO, FLEET, WS-1, ROZ, SA44, MG-500, MOONLIGHT, A102
Kim Min Woo (Eakalian)
Round 1 and 2: 008, STO, SOL, SNSK, MARE, ANA, ROZ, SA44, R20, small rocket?, OC/15, MG-500, FTL450
Round 3: HUESO, NER, MARTE, HUESO, MARE, ANA, ROZ, SA44, ???, small rocket?, MG-500, FTL450
Choi Hoon-Zo
Round 1: RACHIS, IKS, RE/GG, SHUT, ANA, ROZ, CR14, DD/20, TB-UN5, DM-24, CNG-300, GS-56, MIRROR
Round 2: 008, IKS, CASK, SHUT, WS-3, ROZ, KD99, DD/20, TB-UN5, slug gun, CNG-300, GS-56, MIRROR
Round 3: 008, STO, SOL, ORDER, MARE, ANA, ROZ, CR10, DD/10, R/24, DM-24, AD/20, RF/220
*Author's notes: I provided part information where I could. Also, I prolly/really butchered the players' names on both teams*
And so the battles began. Note that these videos are basically short highlight reels; not all matches were broadcast nor recorded. But it is the most amount of video we have available from the event at this time (and believe me, we looked!):
With Japanese commentary:

With Korean commentary:

As the dust settled, the Japanese team emerged victorious with a clean sweep. However, the Japanese players were quick to emphasize that this outcome should not be seen as a definitive judgment of the skill gap between Korea and Japan. The discrepancy in game modes—Korean players accustomed to Normal mode and Japanese players competing on Hard mode due to the organizer's oversight—created an unbalanced situation. The Japanese participants commended the Korean team for their willingness to adapt and compete on Hard mode at a moment's notice. They acknowledged the difficulty of transitioning abruptly from Normal to Hard mode and urged others not to read too much into the results of this particular match.
In the aftermath of the intense battles, both teams put aside their competitive spirits and shared a heartwarming dinner, savoring delicious Korean cuisine. A memorable moment unfolded when Raptor and his opponent Eakalian bonded over a serving of bibimbap.
Raptor: Was it good to mix kimchi in the bibimpap?
Eakalian: You can mix the kimchi and gochujang, but I won't mix it.
Raptor: You don't usually mix them?
Eakalian: I'm not good with spicy food *bitter smile*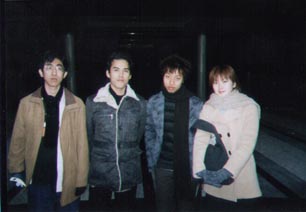 The remainder of the evening was spent in friendly conversation and bonding, with the Japanese team learning a few Korean words. Interestingly, the teams decided to play Armored Core once again, but this time in Normal mode. The Korean players showcased their creativity by bringing forth a wider array of AC designs, demonstrating their true potential.
Armored Core's first official international duel between Japan and Korea may have had its fair share of obstacles and unexpected turns, but it was an event that showcased the passion and dedication of the players. It fostered a sense of unity and respect among two large Armored Core communities. As the Raven's Arena echoed with the sounds of clashing mechs, a new chapter in the history of Armored Core began—a chapter that would forever be remembered as a testament to the enduring spirit of competitive gaming.
In the next article, we dive deep into one of the most storied grassroots tournament series the game has ever had: Master of California. Stay tuned!
SOURCES:
Archive of Raptor's account of the event
Mr. Right's account of Raven's Arena, Part 1
Mr. Right's account of Raven's Arena, Part 2