Why are you banned?

forsaken: Because I cheated in a CS:GO tourney

FaZe Jarvis: Banned from Fortnite because I literally hacked and filmed it for millions to see

YOU: IDK I'm just too good
Have you seen this AC? If you've played the Ex Arena in Armored Core: Master of Arena's 2nd disc, under the "Champion" category, you probably have.
It turns out, there's a man and a story behind this AC—a glimpse into the earliest days of Armored Core tournaments and the people around it.
Who is this person with the callsign "YOU"? A man who was so good at Gen1 Armored Core that he was banned from participating in Armored Core tournaments for winning consistently. He was so good that he was bestowed the title of "Irregular" by his peers, and as you saw, cemented his legacy by earning a spot in AC:MoA's Ex Arena.
Denfaminico Gamer was able to track YOU down for an extensive interview about his life as a Raven. The following is a summary of that interview.
A Head Start
YOU's extraordinary journey began in the early days of Armored Core, where he swiftly made a name for himself. In total, he won a staggering nine official tournaments across the first and second generation Armored Core games and was a force to be reckoned with. However, it was his participation during the lifecycle of Armored Core: Project Phantasma that solidified his legendary status.
When asked about his ban from Armored Core tournaments in the PSX era, YOU confirmed the rumors, explaining that he was asked to step aside after his fourth tournament. FromSoftware sought a fresh champion, and deemed his unparalleled success as a hindrance to the tournament's diversity and excitement. Eventually he was able to rejoin the tournaments, winning again when Armored Core 2 and Armored Core 2: Another Age were released.
Unconventional Tactics and Unforgettable Moments
Throughout his career, YOU developed a reputation for employing unorthodox strategies and mind games to gain an edge over his opponents. His mastery of the game's meta allowed him to remain on top. He intentionally chewed gum during matches to distract his adversaries. He was also known for surprising his competitors by announcing one AC design before a tournament, only to arrive with a completely different one on the day itself—an unpredictable tactic that often caught his opponents off guard.
YOU also shed light on the inner workings of Armored Core tournaments during his prime. FromSoftware would send letters to participants, and a lottery system determined who would compete. A minimum of 16 players were required for a tournament to commence. In recounting these events, he revealed that the first-ever tournament was sponsored and organized by the renowned Yodobashi Camera Corporation. This first tournament, which happened to coincide with his birthday, saw him triumphantly declaring victory as his greatest gift to himself.
The Path to Greatness
During the interview, YOU delved into his origins as an Armored Core enthusiast. Initially introduced to the world of mecha combat through the PSX title Vehicle Cavalier, he quickly became captivated by Armored Core's limitless possibilities. A desire to create effective PVP designs and tactics fueled his passion, pushing him to invest countless hours into honing his skills. With modesty, YOU attributed his success not to innate talent but to unwavering dedication and practice, often logging five to eight hours of gameplay per day, with the interviewer commenting it is not unlike how an athlete trains for a sporting event.
The Unbreakable Friendships
While the competitive scene could be cutthroat, YOU acknowledged the friendships he formed during his Armored Core journey. These bonds, often forged through battles and shared experiences, provided him with a lifeline when the pressures of constant victory threatened to consume him. He emphasized the significance of these relationships, recounting heartwarming anecdotes of sharing post-competition ramen sessions with fellow Ravens. These communal moments, where individuals from different backgrounds gathered to bond over their shared love for Armored Core and local cuisines served as a powerful motivator for him to continually push the boundaries of his abilities.
Reflections on Triumph and Humanity
As the interview drew to a close, YOU reflected on the mental toll his pursuit of victory had exacted on him. The weight of his "Irregular" title became suffocating, causing him to hyperventilate under the immense pressure to always emerge victorious. However, it was the intervention of a concerned teammate that led him to question the true value of relentless triumph. It was through this introspection that he finally discovered the joy of Armored Core beyond the competitive realm—a joy found in simply playing for the love of the game.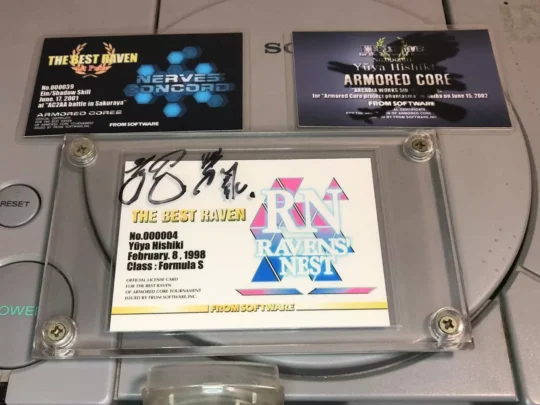 The Legacy of a Legend
Immortalized in Armored Core: Master of Arena, YOU managed to leave a permanent legacy in the history of Armored Core. From his meteoric rise, to his ban from official tournaments, and finally, to the profound friendships he fostered along the way, his journey is a testament to the lasting impact of shared experiences and the power of camaraderie forged by competition. While Armored Core may have catapulted him into the annals of gaming history, it is the connections he made that he cherishes above all else. Truly, Armored Core proved to be the conduit that linked him to lifelong friends, forever enriching his life.
Today, YOU is just coasting through life, surrounded by family and friends. He's jumped into figure modelling and is a fan of Girls und Panzer. He looks back at his glory days and wonders if his story might be unearthed by his children one day.
And yes, he still possesses the skills of an Irregular:
今日の日課#アーマードコア pic.twitter.com/OruYatGl7W

— YOU (@km_you) June 28, 2023
The last word of the interview may be the finest (machine translated):
My life changed when I met "Armored Core", and I am grateful to Mr. From and the Ravens who played against me. I never thought I'd be interviewed after 20 years, but I'm happy to have this opportunity and it was fun.

Thank you very much today!
Thank you, YOU for being a legend. His experiences resonate to many of us who have met in real life because of Armored Core. And so to that end, thank you too, FromSoftware, for creating the game that brought us all here together.
For those who are curious, his old Armored Core website is archived in the links section below.
Thus concludes the first part of our series covering various Armored Core PVP moments in history. Stay tuned for part 2!
SOURCES:
We talked to the legendary Raven who became an "Official Irregular" because his "Armored Core" was too strong
Web archive of YOU's Armored Core Website, Arcadia
Editor's Note: Name has been redacted as per request of YOU. Sorry about that!