After the release of Armored Core 3 Portable for the PSP last July, From's next entry in its PSP ports series is Armored Core: Silent Line, which is scheduled for a November 19, 2009 release. One of the highlights of this new edition is the reappearance of the legendary Karasawa Mk II first seen in Armored Core 2, and it seems like it retains most of its stats except for the reduced ammo count as seen below: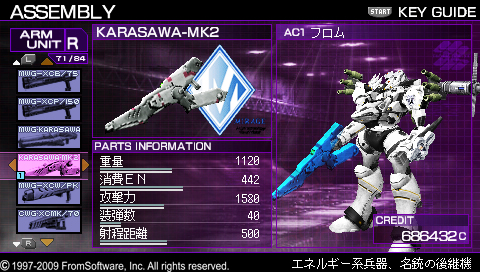 For more information visit From Software's official AC:SL Portable website.
In conjunction with this, they've announced plans for an Armored Core Championship Tournament Season 2, likely to commence with the release of Silent Line Portable.
Thanks to J.E_Magog for the heads up.