Let's sidetrack a little from our usual Armored Core coverage and focus on a recent game released under the name Busou Shinki: Battle Masters.
For those who are not familiar with the name, Busou Shinki (Armament God Princess) is a toy franchise accompanied by an online game that features girls clad in armor and weapons. Each series release is called a "Wave" where in each Wave, a specific artist designs weapons and armor sets, giving a unique feel or theme for each Wave release. Continue reading after the jump:
The figures, armor, and weapon sets come with a unique passcode that allows collectors and owners to participate in an online arena, where each owner's custom Shinki duels against another person's Shinki over the internet. Combat in this online arena is completely handled by the AI, and the aftermath of each battle, as well as user feedback on the Shinkis, will determine the Shinki's future behavior and personality the next time it enters the arena.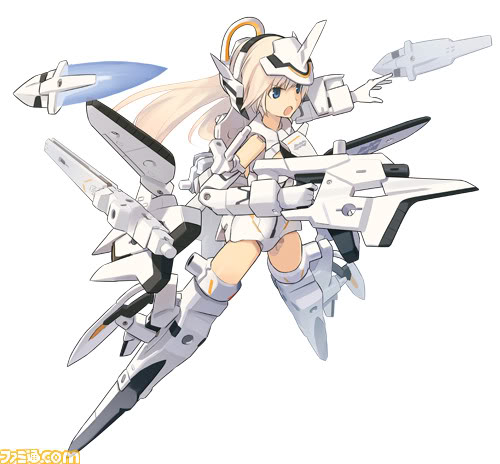 Now the obvious appeal of this series are the moe characters, along with the wide variety of customization parts available to slap on your cute little killing machine of death. There is a unique charm surrounding girls with big guns, at least before they pirouette and blast you with enough warheads to stop Godzilla, that makes this hobby appealing for Mecha-Musume fans and for standard mecha fans to some degree. Here are a few samples of what Busou Shinki figures look like: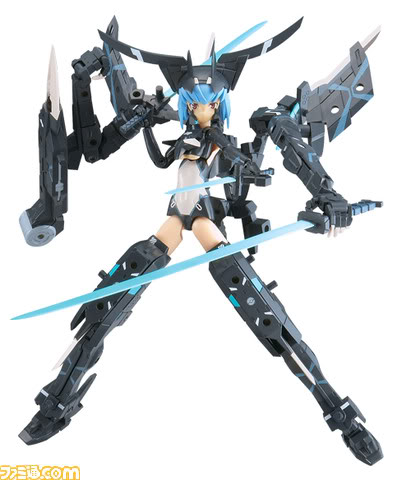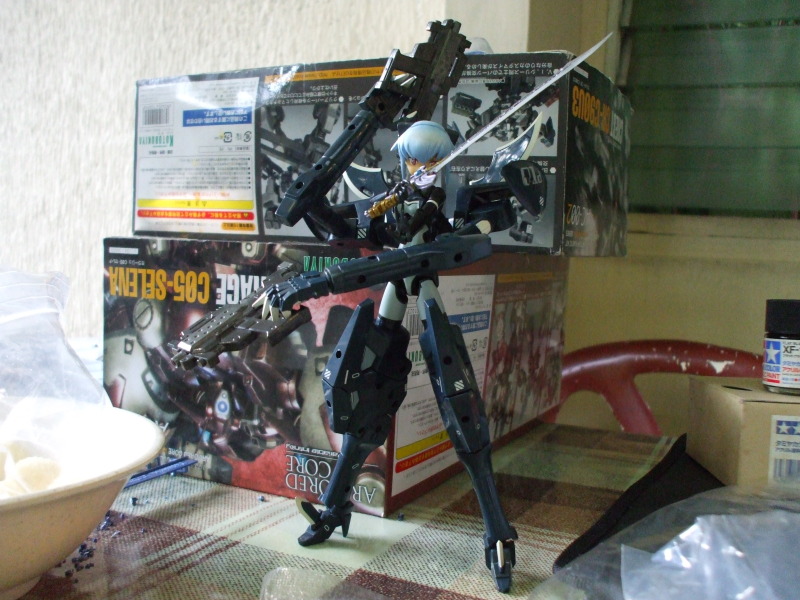 As you can see with the last picture above, the CR-WR69M from the Variable Infinity Armored Core series fit perfectly with the standard Busou Shinki releases, which brings us to the next part of this post; the recently released Busou Shinki: Battle Masters for the PSP. A short video is in order to quickly describe what this game is all about (Customization demo starts at 1:25, combat demo at 3:25):
Gameplay is a radical departure from the traditional Busou Shinki online play. The PSP version, for the first time, allows a Shinki to be controlled by a human player, where controls can be described as arcade style similar to the Gundam vs. series released by Capcom, or a simplified Another Century's Episode control scheme.
The customization aspect the series is known for is faithfully recreated in-game, and Armored Core players will find the customization interface to be intuitive and familiar to some degree. In a way similar to Armored Core, each part has a different characteristics that affect performance of your Shinki, delivering variable stats at an in-game Cost (A weight limit of sorts for you Armored Core fans). Parts include armor sets for the head, torso, arms, legs, as well as boots, backpacks and orbiting objects. Weapons carry a wider selection, ranging from swords, cannons, handguns, rifles, automatic weapons, to energy weapons, missiles, indirect weapons, to the downright silly ones such as squeaky hammers.
The simple gameplay mechanics, coupled with a robust customization system make this an attractive game not only for Busou Shinki collectors, but also gearheads looking for a mecha fix. Having a cute girl ride a machine of death is such a sweet treat that mecha-musume fans just cannot pass up.
Thanks to Immaterial for some info on the series.