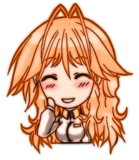 So far, he's making a damn good job at it. Mattias Häggström Gerdt is a freelance Swedish video game music composer who had a hand at developing music for various video games and music artists (what did you expect from a guy that had Viking war music in his bloodline?). Inspired by various Armored Core OSTs, particularly the synthesized vocals used in most soundtracks, he decided it was high time that a tribute album be made in honor of this unique method of music composition.
You can read his essay on processed vocals in Armored Core soundtracks (Prominent examples include Artifical Sky, Shining. Samples of which can be listened to after the jump) that got him started on this project. If you need a quick memory refresh on what synthesized vocals were like in Armored Core, hit the jump for a quick refresher on Shining form AC:N and Artificial Sky from AC3 as well as a sample of Mattias' awesome tribute album:
Shining:
Artificial Sky:
Mattias' tribute album sample:
Armored Core Tribute Album preview from Mattias Häggström Gerdt on Vimeo.
We really love where this project is headed, and we look forward to its completion. Now if he can do something about those boring Last Raven sound tracks, we'll bow down and worship this guy.
[via: Ansou through Armored Core Universe Forums]
Thanks for the heads up LCC, and J.E. for the reminder.