As you may have noticed, I've been on an old school AC fest recently. Since I just finished AC2 and AA, I went back even further and finally completed ALL the arenas in MOA (because I simply couldn't before. I wasn't good enough and my understanding of the game was still shallow then). Yes, both my PS1 and MOA CDs are still working.
Here's the AC that I used to complete almost all the arenas (except for the leg-specific arenas though).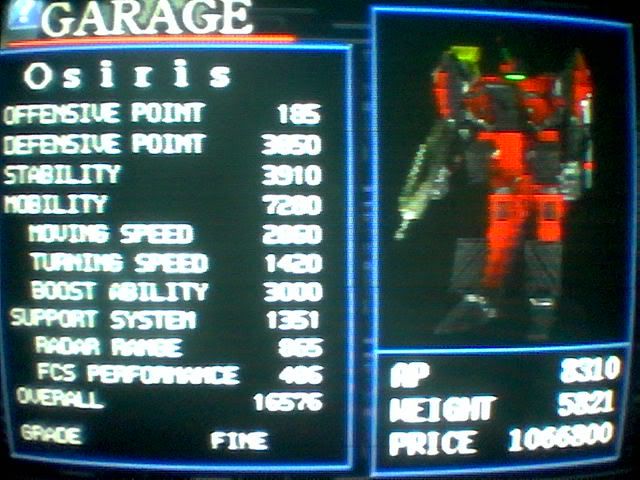 (Sorry for the crappy photo. Took a picture of my TV using my cellphone cam >_<)
AC Name: Osiris
Head: HD-H10 (Eva-01 look-a-like head)
Core: XXA-S0
Arms: AN-K1
Legs: LB-1000-P (Lightest RJ legs)
Generator: GBG-10000 (Highest output)
FCS: QX-AF (The 2nd WS-Type FCS)
Booster: B-P351 (2nd highest boost power)
Back L: RXA-01WE (Starter Radar)
Back R: M118-TD (Ammo pack)
Arm L: None
Arm R: WG-MG500/E (Energy Machine Gun)
Ops:
S/SCR (shell screen)
E/SCR (energy screen)
ABS (reduces impact shock)
ABS/Re (further reduces impact shock)
CND-K (increases energy output)
EH (increases energy weapon rate of fire)
E+ (increases energy weapon power)
DEtq (decreases usage drain of energy weapons)
Rationale:
The entire design is built around the energy machine gun. The MG500/E has an insanely high attack power for its rate of fire, with its only drawback being the high usage drain. Hence the super low drain frame (around 5915 surplus EP). With the ammo, speed, unmatchable turning rate of this AC, no other weapons were really needed.
With careful booster control and energy management, one can literally hold down on the fire button from the start of the match until the enemy AC is destroyed without even emptying the energy gauge.
Though the AC is very light, defense is not compromised. Without screens, shell defense is at 1756 while energy defense is at 1616. Stability is relatively low, as with most RJs. But thanks to both the ABS and ABS/Re, the stability has been brought up to 3910, which is enough to keep the AC from being stunned by hand gun fire.
The AC's primary strength is in CQC not just because of the MG500/E but also because of its extremely high turning rate of 1420. The fastest turning quad is at 1160 while the fastest turning biped is at 1230.
Side Notes:
Touching MOA now makes me appreciate how simple AC designing used to be. It also makes me appreciate how later AC games have provided us with the far more relevant stats and a much better interface. In MOA, the range and lock speed of the FCS are not provided. Total shell and energy defense stats as well as surplus energy points are also not provided, among other things. -_-